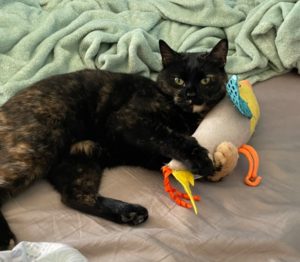 Shaqueque the Cat
Age: 2-3 years
Fixed (Spayed/Neutered)? No
Declawed? No
Weight: 10 lbs
Indoor? Yes
Microchipped? No
City in which animal is located: Waterford
Rehoming fee? Yes
Please note: This is a courtesy listing on HSHV's site. This animal is available through a private individual, NOT HSHV. For questions, please contact the individual below, not HSHV. Thank you!
She unfortunately lives only in my room with her sister and her mother who I've had for 10 years. The house is pretty quiet most of the time. I do have a lil sister who is wild and she gets along just find with Shaqueque. Shaqueque has scratched her but it's only because she wants to play or she was rubbing her stomach. Shaqueque (I have multiple nicknames for her que, queezers) is a very active cat. She loves to play and run around but she can also sit and chill out, she goes off of the energy in the room and is a lover for attention. She loves watching tv she sits with me and watches shows. Sometimes I'll put birds on the screen for her to watch but she might try to hit the tv (this might not be a problem if your tv is high up), regular tv though she won't jump. At night sometimes she will meow a lot that's only when she's in heat but I figured she would get fixed in her new home.
If you are interested in adopting Shaqueque, please contact Aaliyah at 248-672-5997 or Am.coleman1229@gmail.com. This animal is listed as a courtesy on our site, but is available through this individual. For questions, please contact the individual listed, not HSHV. Thank you!