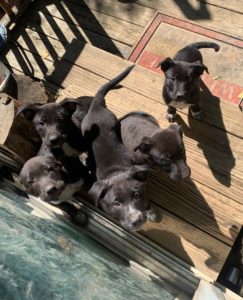 Sammi, Squirmy, and Luke the Dogs
Age: 11 weeks
Fixed (Spayed/Neutered)? No
Indoor? Yes
Microchipped? No
City in which animal is located: White Lake
Rehoming fee? Yes
Please note: This is a courtesy listing on HSHV's site. This animal is available through a private individual, NOT HSHV. For questions, please contact the individual below, not HSHV. Thank you!
Born: Monday July 19, 2021 (2 girls, 1 boy)
Commands Known (so far):
• Leave it
• Whistle to come
• No bite (gently close snout)
• No bite, kisses only
• C'mon babies (to follow)
• Quiet! (tap/bang a dog dish)
• Potty on paper
• Potty outside (started learning 9/16)
• In (to go in crate)
Medical History:
• Wormed
• 1st round of shots
• A+ rating from Vet (Dr. Melissa Shultz, White Lake) with recommendation papers
• A+ rating from Trainor (Mona Prime, Milford)
• September dose of heartworm (one month)
• "Blue" brand puppy food (aka Tractor Supply's exact version for less $ is "4 Health" for puppies)
Personalities:
• Kind and playful
• Very clean (help from mama and humans)
• Socialized and loved by all four of us humans (2 kids)
• Paws and tails touched frequently
• Interacts very well with mom, dad and siblings
• Socialized well
• Plays with ropes, chewys, balls, toys
• They put everything in their mouths, just like babies they have to be watched 24/7
• Used to going in crates/home (command "In")
Important Notes:
• "Bully" breeds need a LOT of attention and training
• They are like "puppies" for two years
• Must establish "ALFA" status immediately
• Once trained properly, these breeds will be the best dogs ever (from personal experience)
• They are happy and feel safe when they have their own space/crate (less trouble to deal with too!)
• Crate training while gone or sleeping is preferred and advised (for their safety and well-being too)
If you are interested in adopting Sammi, Squirmy, or Luke, please contact April at 248-459-2677, 248-820-9374, or aprilgp813@yahoo.com. This animal is listed as a courtesy on our site, but is available through this individual. For questions, please contact the individual listed, not HSHV. Thank you!