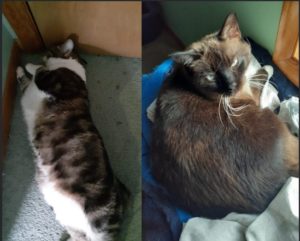 Lil Bit and unnamed the Cats
Age: 6 and 10
Fixed (Spayed/Neutered)? Yes
Declawed? No
Indoor? Yes
Microchipped? Not known
City in which animal is located: Cement City
Rehoming fee? No
We took in 2 sibling cats that are in need of a good home. Unfortunately, we have 3 dogs and can not keep them long term. One is 6 the other is 10. Larger breed. They have claws and are fixed. Both males. The 10 year old likes to sleep a lot and just likes to be left alone and the 6 year old is social and ok with other animals once he gets used to them. Really don't want to split them up.
If you are interested in adopting these cats, please contact Somer at 734-286-7590 or somersgate@gmail.com.