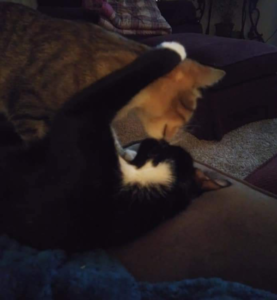 Socks and Whiskers the Cat
Age: 2 years
Fixed (Spayed/Neutered)? No
Declawed? No
Weight: 7 lbs
Indoor? Yes
Microchipped? No
City in which animal is located: Brownstown
Rehoming fee? No
These 2 kitties are the best kitties ever. They are super sweet and love to cuddle. It may take a little time to warm up to you because they've been with us since they left their mother. They are sisters and have never been apart so I would prefer for them to go to a home together. They are not used to other animals. We believe they were separated from their mother too soon and they still needed to be given formula when we first got them. they are very tiny cats even though they are 2 years old. They look like older kittens. We would absolutely keep them if my daughter hadn't developed an allergy to cats. This is such a hard thing to do.
If you are interested in adopting Socks and Whiskers, please contact Melissa at 313-758-7869 or missyv2513@yahoo.com.