Mabel the Dog
Age: 5
Fixed (Spayed/Neutered)? Yes
Weight: 55 lbs
Indoor? Yes
Microchipped? Yes
City in which animal is located: Ypsilanti
Rehoming fee? No
Please note: This is a courtesy listing on HSHV's site. This animal is available through a private individual, NOT HSHV. For questions, please contact the individual below, not HSHV. Thank you!
We're acting as a foster family and are trying to help her find a forever home. Mabel is very sweet and VERY cuddly. She's pretty low energy, doesn't jump, lick, or bark. She's fine with the vacuum, power tools, etc. She really just wants to snuggle up and watch movies all day. She could use some help house training – she knows to go outside but has some accidents still. She's very food motivated and is great at "sit" and "lie down." Her behavior with children, cats and other dogs is unknown. She is fearful of strangers at first – she may bark or growl and back away – but once she warms up she is all snuggles.
If you think Mabel might be the girl for you please contact us to arrange meeting this snuggle bug.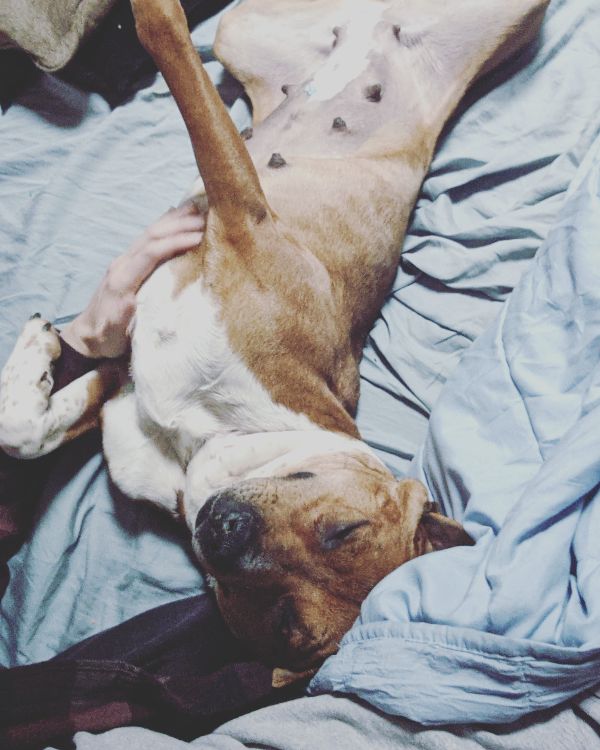 https://www.hshv.org/wp-content/uploads/formidable/105/IMG_20211219_112924_043.jpg
If you are interested in adopting Mabel, please contact Lillianna at 734-686-7822 or lblair843@gmail.com. This animal is listed as a courtesy on our site, but is available through this individual. For questions, please contact the individual listed, not HSHV. Thank you!