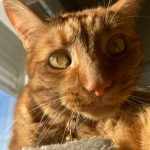 Spunky (and a little Spicy) Cat Needs a New Home!
Clementine the Cat
Age: 6
Fixed (Spayed/Neutered)? Yes
Declawed? No
Weight: 15 lbs
Indoor? No
Microchipped? Yes
City in which animal is located: Ypsilanti
Rehoming fee? No
Please note: This is a courtesy listing on HSHV's site. This animal is available through a private individual, NOT HSHV. For questions, please contact the individual below, not HSHV. Thank you!
Clementine is a talkative, cuddly, and loving cat. He has a tendency to pick a preferred person and will go back and forth between me and my husband for extended periods of time. Clementine is one of the funniest cats I've ever met—he comes off quite pompous but in reality, he's a huge goofball (and pretty clumsy). He's a big boy (around 15 lbs and 17 in long) so there's a lot of him to love. He melts for head and chin scratches (but would prefer to not be touched anywhere else, at all). His favorite toys are his laser pointer, rope toy, and chasing around a ball or electronic mouse. We've tried some other toys but didn't receive much interest from him! Clementine likes to perch near windows and is an indoor/outdoor cat. He spends most of his time inside but when he asks to go out, we let him play in the backyard where he tends to stay and be content. He will come inside when his name is called. We aren't sure of his history before we adopted him, but it was only 6 months ago that we spoke to our vet about letting him outside. Once he was allowed to play in the backyard, his biting and general aggression decreased dramatically. We tried taking him for walks first but it only seemed to ramp him up and frustrate him to be on a leash.
Please see below on why we are re-homing Clementine. He really is a wonderful cat and we want to ensure that he finds his forever home with someone who can handle his behavior. It breaks our hearts that it just couldn't be with us.
Clementine is a sweet boy but he has some "aggressive" behaviors that we've been working on since we got him 2 years ago. His behaviors are mostly affection and play-based, but it can be difficult to interpret what he's asking for at times. Clementine will bite when pet too much, in the wrong spot, not enough, or to initiate pets. He will also bite when he wants to play and his favorite way to play is to hunt. On quite a few occasions I've tried to redirect him to toys and been bit fairly hard. All of this to say, his behavior is very manageable once you get to know him. However, we are expecting a baby in April and it doesn't seem safe to keep him around an infant/toddler/young child who won't be able to interpret all of his nuances and subtle cues. It also does not seem fair to keep them separated from each other 24/7 and we would like to find Clementine a loving home where he will be an only-pet with no furry or human siblings. (We had a 60-lb Blue Heeler that Clementine would occasionally "attack" with seemingly no trigger and our dog was very scared of him, tending to keep his distance—we don't know how he interacts with other cats but would recommend not risking it). Clementine does not seem to like children, regardless of their age or temperament and has bit/scratched younger family members on many occasions. We have taken him to the vet and ruled out any illnesses that could be causing his behavior. He's a bit of a fireball but is truly so loving.
If you are interested in adopting Clementine, please contact Aubrey  at 734-431-7880 or keomanyharju@gmail.com. This animal is listed as a courtesy on our site, but is available through this individual. For questions, please contact the individual listed, not HSHV. Thank you!