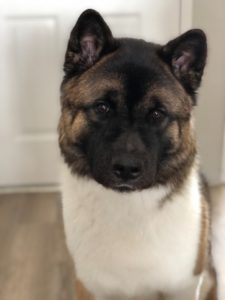 Stella the Dog
Age: 2 (birthday is Oct 1)
Fixed (Spayed/Neutered)? Yes
Weight: 80 lbs
Indoor? Yes
Microchipped? Yes
City in which animal is located: Ann Arbor
Rehoming fee? Yes
Stella needs to be in a active home. She currently get three walks a day roughly 15-20min per walk. A fenced backyard would be ideal because she loves to be outside. She loves to people watch from the window, so please at least have one window with the blinds up. Unless you get her some behavioral training I suggest that she is the only dog in the house and that there are no small children, and not too much traffic in and out the house. She's very wary of strangers, so introduction will have to be slow. She also isn't fond of strangers in her face. Her water intake needs to be controlled cause she'll drink water even though she's not thirsty and will have a accident. She'll be rehome with the water bowl she currently use and the slow eating food bowl. She loves attention and is a really loyal and a sweet teddy bear once you gain her trust. She can be pretty sassy and stubborn sometimes but it's the funny type of sassy and stubborn. She loves to sleep in front of a fan or nice cold floors. She's usually not vocal but will alert you if someone is at the door or is talking back to you. If you are interested in Stella please do research on American Akitas first just so you have a general idea on how the breed is like. Please only serious adopters.
If you are interested in adopting Stella, please contact Chi at 734-352-7411 or Chitran489@gmail.com.