Beowulf ( "Beo") the Dog
Age: 8 years
Fixed (Spayed/Neutered)? Yes
Weight: 58 lbs
Indoor? Yes
Microchipped? Yes
City in which animal is located: Howell
Rehoming fee? No
Please note: This is a courtesy listing on HSHV's site. This animal is available through a private individual, NOT HSHV. For questions, please contact the individual below, not HSHV. Thank you!
Beowulf is a bold, loyal, spirited, and sensitive, 8-year-old, purebred Norwegian Elkhound. He was a spoiled only furbaby for the first 6 years of his life, but 2 years ago we began starting a family of non-furred babies, and Beo has not responded well to the drastic changes in our household and needs a home where he can again be lavished with affection and be the center of attention. He craves constant human attention and affection, and wants nothing else but to be near his humans, however, he can not be in a home with very young children or other dogs. He loves long walks, or preferably hikes through the woods, and loves being outside in the snow! He is very people-oriented, and will not play outside alone – he loves the outdoors, but only if his humans are outside to enjoy it with him. He has anxiety during thunderstorms or fireworks and can be protective/reactive around new dogs. Beo, like most Elkhounds, is strong-willed, yet very sensitive and affectionate. Beowulf needs a home with an experienced dog owner who is looking to form a very close bond, and be rewarded by years of loyal adoration and companionship.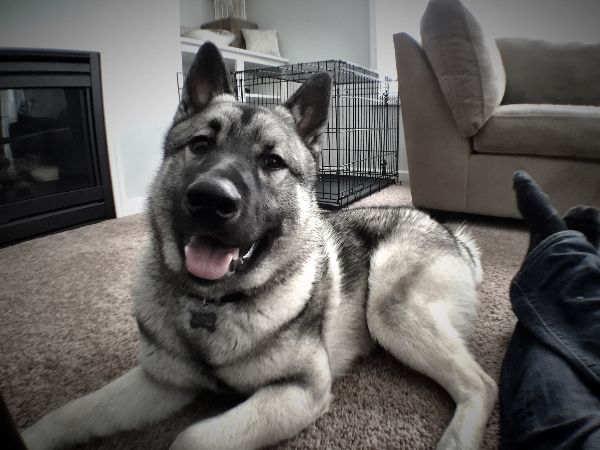 https://www.hshv.org/wp-content/uploads/formidable/105/Beo-3.jpg
If you are interested in adopting Beowulf ( "Beo"), please contact Gregg at 989-277-9687 or grgeorge@umich.edu. This animal is listed as a courtesy on our site, but is available through this individual. For questions, please contact the individual listed, not HSHV. Thank you!