Violet and Snoozle the Rabbits
Age: 1.5 years
Fixed (Spayed/Neutered)? Yes
Weight: 8 lbs
City in which animal is located: Ann Arbor
Rehoming fee? Yes
Please note: This is a courtesy listing on HSHV's site. This animal is available through a private individual, NOT HSHV. For questions, please contact the individual below, not HSHV. Thank you!
Snoozle and Violet are a sweet pair of sisters. They are litter box trained. Both are spayed and have been healthy since birth. Their birthday is December 15, 2020.
They currently live in a home with a school age child and live in our main living area. They are comfortable with the bustle of family life. They both like being pet on their heads and backs and also enjoy a good cheek rub. Snoozle will spend time in your lap once she gets to know you, while Violet prefers to keep all four feet on the floor. They enjoy time out of their pen every day and like to show off their binkies and zoomies. Their favorite toys are cardboard boxes, of which they like to chew and dig and make their own entrances and exits. They will come with their own litter boxes, toys, and supplies of hay and pellets (among other things depending on your needs). This quiet pair is ready to melt your heart with their cuteness!
If you are new to bunnies and curious to learn more, here is a great place to start:
House Rabbit Society https://rabbit.org/
Bunny Lady https://bunnylady.com/
Please be in touch if you are curious to learn more about having rabbits as delightful pets!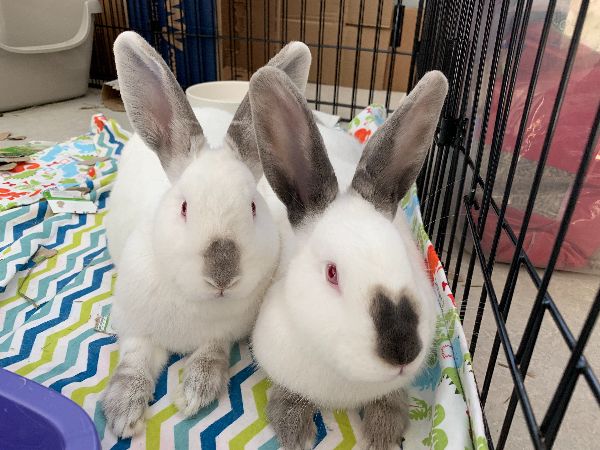 https://www.hshv.org/wp-content/uploads/formidable/105/Violet-and-Snoozle.jpg
If you are interested in adopting Violet and Snoozle, please contact Brenna at 510-599-3935 or breichman@gmail.com. This animal is listed as a courtesy on our site, but is available through this individual. For questions, please contact the individual listed, not HSHV. Thank you!