Beauregard "Beau" the Dog
Age: 4 1/2
Fixed (Spayed/Neutered)? Yes
Weight: 65 lbs
Indoor? Yes
Microchipped? Yes
City in which animal is located: Canton
Rehoming fee? No
Please note: This is a courtesy listing on HSHV's site. This animal is available through a private individual, NOT HSHV. For questions, please contact the individual below, not HSHV. Thank you!
Beauregard "Beau"
AKC's Mr. Beauregard the Beast TKI
4 ½ year old (approx) pitbull/American bulldog mix
Pros – loves people, loves kids, loves to cuddle, extremely good in a kennel very quiet and goes right in and is fine with being kenneled in a high traffic area (living room)
Cons – extremely high prey drive, will go after small animals and cats (fine with small dogs), doesn't like being mounted and will turn on the dog attempting to do it and lock onto their neck (has never drawn blood), will join in groups of dogs picking on another dog (dog park groups, we no longer take Beau because of this), needs to be let out periodically he will not alert when he needs to go out (but doesn't mark), he counter surfs and jumps on people as well, he has allergies and required medication to keep it under control (it is currently not controlled yet and we are still trying to figure this out)
Beau's ideal home would be an active one and enjoy walking or jogging with him. He would enjoy having 1 dog friend or being on a home with no other pets. He currently lives with a mini Aussie who is 1 ½ and 29 lbs and has had no issues at all with him.
Beau enjoys lure coursing and would do well in fastCat activities, I have tried him in agility and while he's not scared of the obstacles he's not that excited about it. He has been in 5 obedience classes and completed them all, he has an understanding of all basic commands and has his trick dog intermediate titles for AKC and dmwyd. He is on the road to testing for his cgc.
He would love someone to snuggle up with at night, but currently he is kenneled when we go to bed so our kitty can come out. He loves cuddling on the couch and wants to be as close as possible.
We are rehoming him because he has attacked and fractured our cat twice now, it's not working out with the two of them at all. She is kept in a room away from him when he is out and then they are swapped where he is kept in a kennel (in a room) and she is out. We love him and want what's best for him, we adopted him a year ago from the human society and don't want to see him go back there.
I would love for the new owners to send updates or keep in contact (even just Facebook friends to see updates is fine). We would take him back if it didn't work out at any time.
He would come with an e-collar, his own collars, leash, front hooking harness, bowls, food, allergy meds, toys, bones and his kennel.
Contact me for more information or if you would like to meet him. He is super sweet and loves everyone he meets, he would love a loving family or even a single person to cuddle with.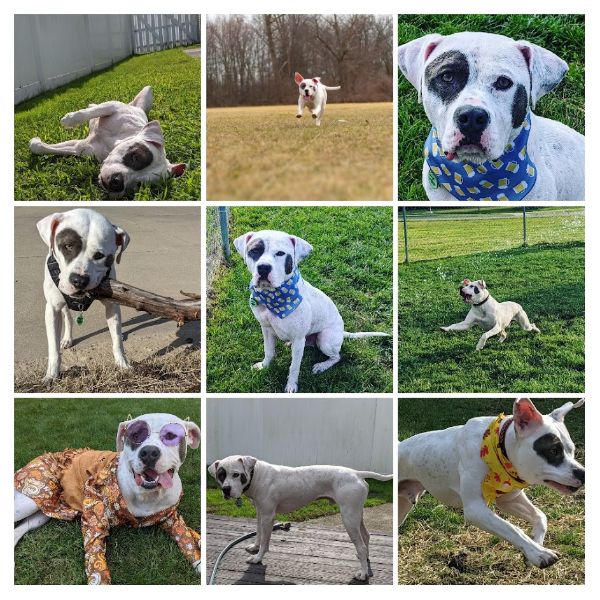 https://www.hshv.org/wp-content/uploads/formidable/105/20220513_011845-COLLAGE.jpg
If you are interested in adopting Beauregard "Beau", please contact Samantha at 248-790-7146, 240-818-1996, or kidxvicious87@yahoo.com. This animal is listed as a courtesy on our site, but is available through this individual. For questions, please contact the individual listed, not HSHV. Thank you!