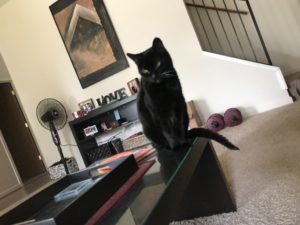 Tabby the Cat
Age: 16
Fixed (Spayed/Neutered)? Yes
Declawed? Yes
Indoor? Yes
Microchipped? No
City in which animal is located: Saline
Rehoming fee? No
She has a lot of pep in her step for a cat of her age. She needs to be in a place where she is the only animal and can adhere to a set routine without much interruption. She is honestly a very sweet cat but becomes intimidated and frightened around other animals (anxious & skittish, but she never hisses, scratches, bites, or displays any aggression).
If you are interested in adopting Tabby, please contact Joshua at 313-605-3434 or eurisko4343@mac.com.