Chocolate & Speckles the Guinea Pigs
Age: 1 year old
Fixed (Spayed/Neutered)? No
City in which animal is located: Brighton
Rehoming fee? No
Please note: This is a courtesy listing on HSHV's site. This animal is available through a private individual, NOT HSHV. For questions, please contact the individual below, not HSHV. Thank you!
Two very sweet, bonded, male Guinea pigs. Both a bit shy but warm up and will come right to you for a treat which they will happily take from your hand. They love their current C & C cage with a loft which we would include with their adoption. They are very entertaining running the ramps to the loft and can usually be found cuddling up there or in their hide out. They make you catch them to be cuddled but are fine being handled and will snuggle up to you if you are sitting with them. They are usually pretty quiet but do chirp when they're hungry and can get vocal when they have their occasional wrestling matches. Their current home does have dogs which they don't seem to be bothered by but their cage is up off the floor so aren't exactly coming nose to nose with the pups. They are also very comfortable with kids and seem to enjoy the attention from them.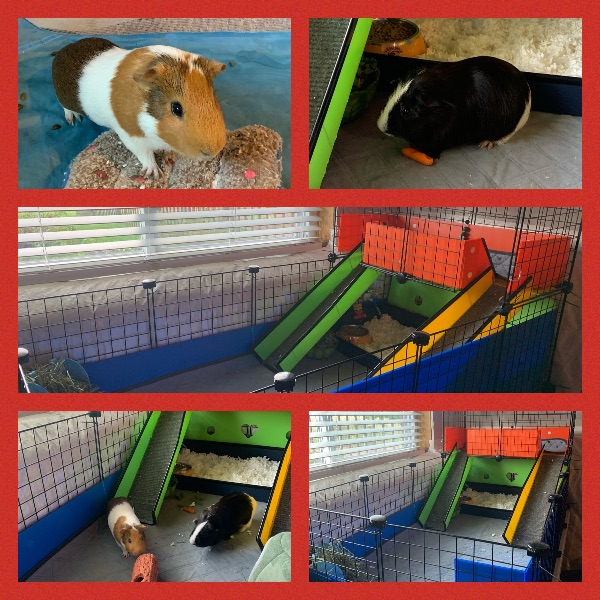 https://www.hshv.org/wp-content/uploads/formidable/105/9368813A-CACC-44DE-B420-118E0C42B54C.jpeg
If you are interested in adopting Chocolate & Speckles, please contact Kelly at 612-578-1463 or kleinonen823@gmail.com. This animal is listed as a courtesy on our site, but is available through this individual. For questions, please contact the individual listed, not HSHV. Thank you!