Buddha the Cat
Age: he is 5
Fixed (Spayed/Neutered)? No
Declawed? No
Weight: 10 lbs
Indoor? Yes
Microchipped? Not known
City in which animal is located: Ypsilanti
Rehoming fee? No
Please note: This is a courtesy listing on HSHV's site. This animal is available through a private individual, NOT HSHV. For questions, please contact the individual below, not HSHV. Thank you!
He is EXTREMELY kind, he goes everywhere I go and is consistently throwing himself at my feet and rubbing against me, he loves pets and the second you touch him he will begin to purr. We have a decent house, my dad likes to hang out with friends and listen to loud music and I'm consistently listening to music. He grew up around dogs and cats, I cannot verify the dogs but I have seen him interact well with other cats. He loves looking out the window. His only flaw is that you will have to put his food in a non-busy area, since he was stray for so long he has grown food aggression in the sense that if you are constantly hanging around his food bowl but he doesn't have food he gets upset and may bite your leg. he will eat ANYTHING you put in front of him so you'll have to break down treats but seriously he is the sweetest boy ever. he takes about two days and a cat gogurt to warm up but after that, he's so happy 🙂 he will lay in your arms (you can't put your arms over him though or else he'll get scared), he'll knead on the blanket you're on, and he will never leave your side. no matter where you are if you look around you will see his little head peaking and staring at you. He's pretty vocal and likes to trill to get some attention which is adorable. He sleeps a ton but if you put a toy on a string in front of him he will be extremely excited. He really just needs love and warmth and then he returns it 🙂 And also he responds immediately to his name, wherever I am and he is in the house, he could be on the other side, and if I go 'Buddha, Buddha, Buuudha" in a quick manner he comes jogging on over to me. And if I wiggle my fingers he gets excited and comes over and rubs against them 🙂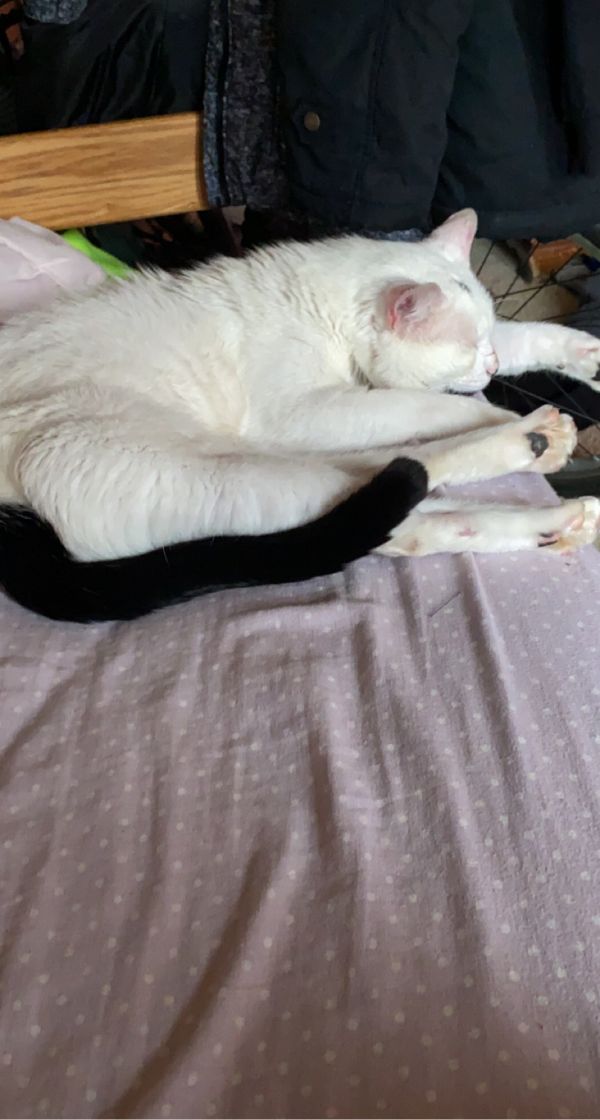 https://www.hshv.org/wp-content/uploads/formidable/105/IMG_4620.jpg
If you are interested in adopting Buddha, please contact Audrey at 734-436-9810 or audreyloviska@gmail.com. This animal is listed as a courtesy on our site, but is available through this individual. For questions, please contact the individual listed, not HSHV. Thank you!