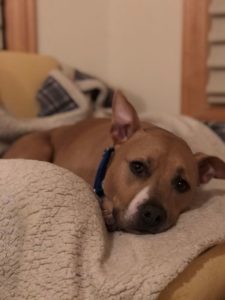 Kallie the Dog
Age: 4
Fixed (Spayed/Neutered)? Yes
Weight: 55 lbs
Indoor? Yes
Microchipped? Yes
City in which animal is located: Chicago
Rehoming fee? No
Kallie is a 4-year-old cuddle monster in search of her forever home. She is a wonderful dog–she's housebroken, eager to please, and incredibly smart. She knows many tricks including sit, stay, come, spin, shake, down, leave it, find it, up, and up up (standing up on her hind legs). In the morning, she will wake you up by jumping on to your bed and burrowing under the covers for some early morning cuddles. She is pretty low-energy and in the evening, she would love nothing more than to lie on your lap while you watch TV. She will also give you plenty of hugs (truly!) and kisses. When you are sad she will crawl into your lap and lick the tears of your face.
Kallie is an only child. She needs a home where she can be the center of attention, without any other pets or small children. She also needs a home with a fenced in backyard–she's not one for walks and needs a space where she can play tug and run around with her loving family.
If your family has enough love to share with this sweet girl, please call or text Marie at 651-315-5512. You can also send an email to msevelyn@umich.edu.