Dax the Dog
Age: 2yrs
Fixed (Spayed/Neutered)? Yes
Weight: 60 lbs
Indoor? Yes
Microchipped? Yes
City in which animal is located: Wayne
Rehoming fee? No
Please note: This is a courtesy listing on HSHV's site. This animal is available through a private individual, NOT HSHV. For questions, please contact the individual below, not HSHV. Thank you!
A wide variety of homes could be a good fit for this good boy, but the most ideal would likely be an outdoors-loving couple or single adult with plenty of time to devote to walks and training, who would enjoy hours of snuggles with an oversized lapdog, and who understands how to respond to his breed tendencies such as chewing and high energy.
Dax is highly trainable, smart, affectionate, very handsome, and absolutely wonderful with our very small children. He knows many commands (sit, shake, lay down, stay, leave it, off, go to your crate, and more), is eager to please and highly motivated by food, though also gets very excited and can often be too distracted to obey. He is quick to pick up new commands, and greatly enjoys our clicker training sessions. As a an absolute bundle of energy, Dax needs around a three mile walk in the morning to keep his activity level low throughout the rest of the day. We have done extensive training with him in this department, and he is a dream to walk with with or without a leash. He is also incredibly cuddly, so when properly exercised, he will curl up with any available person or other dog all day long. This includes our two kids, ages 1 and 3, and he is ever-patient and so sweet to them.
He gets along really well with most dogs, and is very eager to play and make friends, though he sometimes gets over excited and misses cues when other dogs tell him to chill out. There have been two specific instances when Dax and another dog were spending extended time together, did not get along, and had to be separated. Both instances were out of the ordinary and not at all typical for his personality or temperament, but of course it would be wise to let any other pets in a potential home meet him before bringing him home for good.
We will send him to his new home with all his belongings, food, crate and bedding, toys, training equipment, etc.!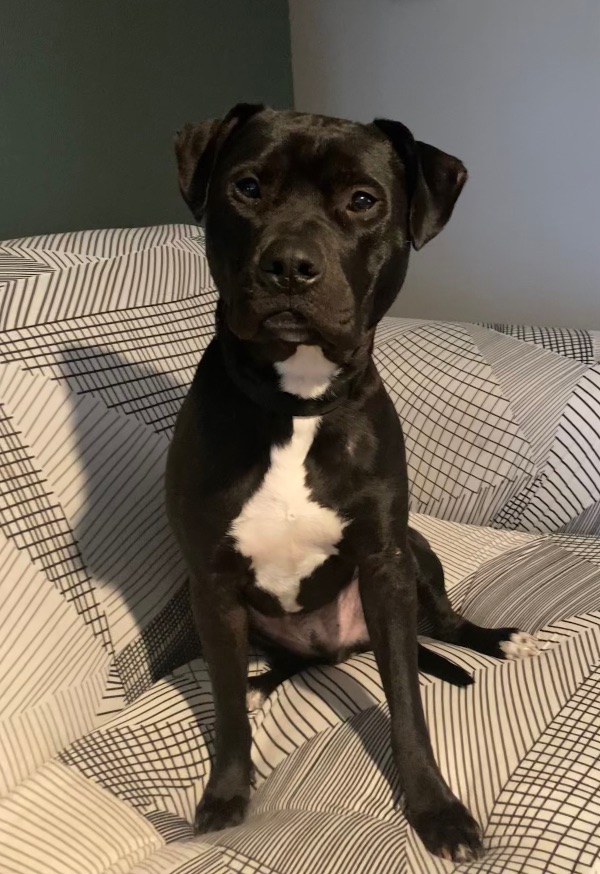 https://www.hshv.org/wp-content/uploads/formidable/105/DD738862-4916-44F0-BEF1-A736C4311F5A.jpeg
If you are interested in adopting Dax, please contact Bridget at 810-265-8494 or bridgetannebutler@gmail.com. This animal is listed as a courtesy on our site, but is available through this individual. For questions, please contact the individual listed, not HSHV. Thank you!