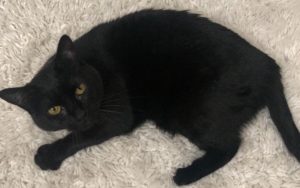 Winnie the Cat
Age: 3.5
Fixed (Spayed/Neutered)? Yes
Declawed? Yes
Weight: 5 lbs
Indoor? Yes
Microchipped? Yes
City in which animal is located: Jackson
Rehoming fee? No
Sweet, shy 3.5 year old kitty looking to be rehomed. She is a cuddler and loves to play, however she is terrified of my children. They don't try to grab her or anything however if she hears their voice or sees them, she runs and hides. She is also terrified of our family dog. Her food and litter box are in the basement and recently she has decided that she will only go there when I am home by myself…typically when I'm getting ready to leave for work. Other than that, she will not come downstairs and has began to go to the bathroom on our bathroom floor or in our bathtub. It doesn't happen often, but it isn't fair for her to be too afraid to use her litter box.
We have an older cat that she gets along with just fine and she even likes to play with him…so another cat may be okay for her. She deserves a loving home, preferably a single person home or even elderly person. No dogs and no kids.
She is such a sweet girl that just wants to be loved and I hope she gets a chance at the life she deserves.
If you are interested in adopting Winnie, please contact Chelsey at 517-250-8430 or murphychelseys@yahoo.com.