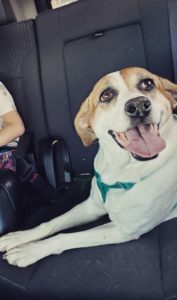 Daisy the Dog
Age: 7.5 years (DOB: July 17th)
Fixed (Spayed/Neutered)? Yes
Weight: 65 lbs
Indoor? Yes
Microchipped? No
City in which animal is located: Warren
Rehoming fee? No
She'd be good in a busy or quiet home. We have 2 children and other animals so it's a busy household. She barks when people walk by but quiets down quickly. She's extremely good with kids and people. She's never had an issue with our cat or been aggressive with any other dogs aside from her female housemate. Probably best she be the only dog in the house because she loves to hog all the snuggles and attention. She's a good listener, listens to basic commands, and is good in a crate. She thinks she's a lap dog so be prepared for her to try and sneak on the couch for cuddles.
If you are interested in adopting Daisy, please contact Casey at 248-990-6454, 586-883-33361, or cmhjmk@yahoo.com.