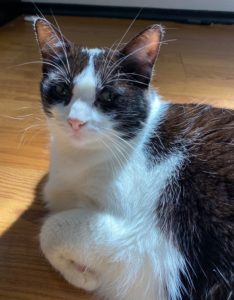 Merida (Mer-Mer) the Cat
Age: 4 years
Fixed (Spayed/Neutered)? Yes
Declawed? No
Weight: 15 lbs
Indoor? Yes
Microchipped? Yes
City in which animal is located: Farmington Hills
Rehoming fee? Yes
Please note: This is a courtesy listing on HSHV's site. This animal is available through a private individual, NOT HSHV. For questions, please contact the individual below, not HSHV. Thank you!
Merida is a very sweet girl. She was born 3/15/17 and could lose a few pounds. She's black and white with a ringed tail like a lemur. She loves to curl up in your lap doing happy paws and purring. She enjoys sleeping at the end of our bed. She's also quite content laying in the sun or chasing milk rings, hair ties, or toy mice around the house. She has been handled since birth, but is not a rag doll kind of cat. I clip her nails myself every week. She protests, but sits still. She has never bitten or scratched anyone, but she can be a drama queen & make a situation sound worse than it is. She has never been around dogs. She has grown up with 3 other cats, but has always simply tolerated them till recently. She currently lives in a busy noisy household, but I think would be fine with a quiet one. She has not been around young children, but has grown up with my preteen kids & has not had problems with visitors. I believe she would do best as an only pet with an owner who would love to have a lap cat companion. Bottom line is she's a great cat and I hate to rehome her, but she's decided to cause too many problems with her kitty housemates & it's making life miserable for everyone. She deserves to be loved & happy and she is clearly unhappy here. Can provide more photos upon request.
If you are interested in adopting Merida (Mer-Mer), please contact Angel at 734-323-0469 or spideyraccoon@gmail.com. This animal is listed as a courtesy on our site, but is available through this individual. For questions, please contact the individual listed, not HSHV. Thank you!