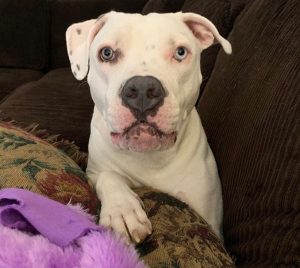 Lulu the Dog
Age: 1.5 yrs
Fixed (Spayed/Neutered)? Yes
Weight: 63 lbs
Indoor? Yes
Microchipped? Yes
City in which animal is located: South Lyon
Rehoming fee? Yes
Lulu currently lives with an older male lab mix and a three-year-old pitbull mix. She gets along with the male but she is fearful of many things, him included sometimes. She doesn't get along with the female at all. She has never been around younger children- mine are 14 and 16. We also have two cats. She will chase them sometimes but that's it. Because she is anxious and fearful of so much I think she needs a calmer environment. But she does love to play and is very athletic. She can jump pretty high. Loves to chase balls (working on bringing them back!) she is very curious and a funny dog full of personality. You'll know if she's mad at you! She pouts. She is very cautious and fearful of new people at first. It will take her awhile to warm up.
If you are interested in adopting Lulu, please contact Sharon at 248-701-1277 or sjprevost@hotmail.com.