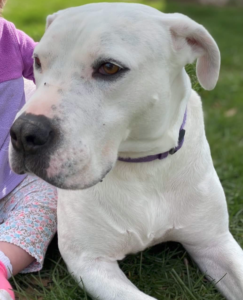 Minnie the Dog
Age: 7
Fixed (Spayed/Neutered)? Yes
Weight: 55 lbs
Indoor? Yes
Microchipped? Not known
City in which animal is located: Canton
Rehoming fee? No
Please note: This is a courtesy listing on HSHV's site. This animal is available through a private individual, NOT HSHV. For questions, please contact the individual below, not HSHV. Thank you!
Minnie is currently living in a quiet, single-person home. She is very sweet and loves walks and being pet/cuddled. She gets along fine with most animals, but she would be best in a house with no other animals or kids. A quiet home would be best. She is very active and loves playing with toys and going on walks. She went through behavior school so she is a dream to walk on-leash. Minnie is an excellent companion and her only desire is to play with her toys and have access to endless cuddles.
If you are interested in adopting Minnie, please contact Derek at 734-754-3192 or minnie@deberon.com. This animal is listed as a courtesy on our site, but is available through this individual. For questions, please contact the individual listed, not HSHV. Thank you!