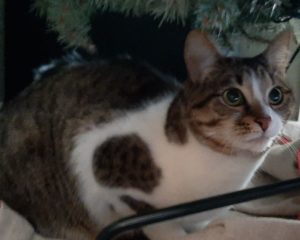 Moxie the Cat
Age: 2 years
Fixed (Spayed/Neutered)? Yes
Declawed? No
Indoor? Yes
Microchipped? Yes
City in which animal is located: Belleville
Rehoming fee? No
Moxie is a sweet and friendly girl. She LOVES people and seeks out attention from both adults and older children. She plays fetch and loves snuggling. She loves playing with our big dog and doesn't seem to mind other dogs that come over. She's pretty quiet and calm except for the normal 2am sprint around the house. She has been an indoor cat for the past two years and loves staring out the window. I think Moxie would thrive in many different environments with older children that'll love and play with her or with other animals to keep her entertained or in a quiet household where she gets all the love!
If you are interested in adopting Moxie, please contact Amy at 734-612-7936 or amypaladino@gmail.com.