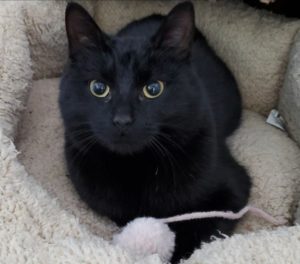 Pancake the Cat
Age: 1 yr
Fixed (Spayed/Neutered)? Yes
Declawed? No
Weight: 6.49 lbs
Indoor? Yes
Microchipped? Yes
City in which animal is located: Milan
Rehoming fee? Yes
Pancake currently lives in my garage in a cage. I play a radio 24 7 for him/them. He likes other kitties, but one of the guys lose in the garage is territorial towards him. He is a sweet, friendly boy who loves to play with his toys. He is always happy to see you and loves to be petted. He is not afraid of other people. Pancake has his rabbies and distemper shots. Feline leukemia tested negative. Microchipped, dewormed and litter box trained.
If you are interested in adopting Pancake, please contact Rosalie at 734-730-6068 or rosalieshemak@gmail.com.