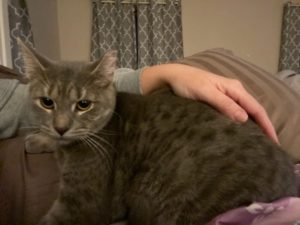 Bailey the Cat
Age: 6 months
Fixed (Spayed/Neutered)? Yes
Declawed? No
Indoor? Yes
Microchipped? No
City in which animal is located: Hartland
Rehoming fee? No
I think she'd love a home with an animal that's not super territorial or a quieter home. We have three small loud children and the older cat that attacks her even though we've worked with the vet on this behavior. I was worried our older cat would be like this and unfortunately she hasn't changed the way she treats Bailey. Bailey is a sweet snuggly kitty that deserves a home where she isn't in fear.
If you are interested in adopting Bailey, please contact Nicole at 517-294-0572, 517-294-8279, or hoskins.ne@gmail.com.