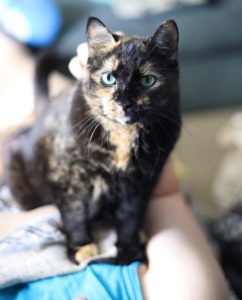 Toffee the Cat
Age: 8
Fixed (Spayed/Neutered)? Yes
Declawed? No
Weight: 13.5 lbs
Indoor? Yes
Microchipped? Not known
City in which animal is located: Ypsilanti
Rehoming fee? No
Our home is 3 adults and no children, so it is relatively quiet. We also have one young male cat who is energetic. Toffee has lived with other cats before, so she tolerates his presence, but wishes to be left alone. She would prefer to be the only animal, but could be happy mutually ignoring another older cat.
She loves people, and is happy just being by your side. She is very easy to take to the vet, and they always love how talkative she is. She's a sassy old lady who is hardly afraid of anything, a true Tortie. She's perfect for someone with a slow-paced lifestyle who wants a devoted companion.
If you are interested in adopting Toffee, please contact Madeline at 734-249-1627 or madypalmer@gmail.com.