Ruthie the Dog
Age: 2 1/2 years
Fixed (Spayed/Neutered)? Yes
Weight: 70 lbs
Indoor? Yes
Microchipped? Yes
City in which animal is located: Ann Arbor
Rehoming fee? No
Please note: This is a courtesy listing on HSHV's site. This animal is available through a private individual, NOT HSHV. For questions, please contact the individual below, not HSHV. Thank you!
Ruthie is the sweetest, most gentle, snuggly girl you could ever ask for. She is so good with her two cat siblings, great with all other dogs, and adores children and adults alike. She has been a much-loved part of our family for the past two years, and I would do anything to be able to keep her with us, but I have realized that I just don't have the room to run and time to play that this sweet girl deserves.
Ruthie really needs either a fenced-in backyard, or an active family that can take her for long walks or hikes. She is also very food driven (she is a hound, after all!), and she is a tall girl, so we put her in her crate when we eat dinner, and use a baby gait to keep her out of the kitchen. She is very good about going into her crate, and LOVES her training time with treats!
Ruth is potty trained and knows all of the basic commands (sit, stay, down, come, shake, leave it), and gets better at listening every day. She also adores her snuggle time with her people!
There is no timeline to rehome her, we really just want to put feelers out and see if anyone else might be able to give this beautiful girl a happier life than we can.
Please reach out with any questions!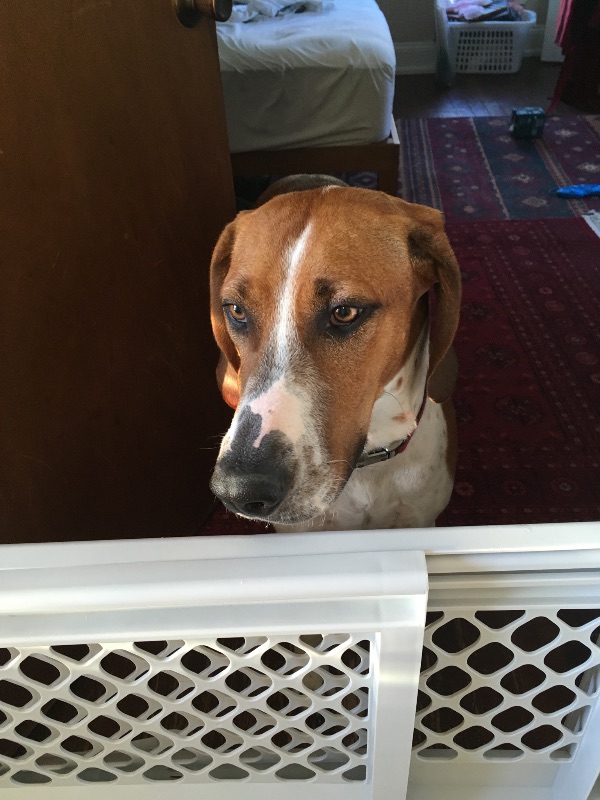 https://www.hshv.org/wp-content/uploads/formidable/105/25182690-5067-4750-A3DC-CD433760AD2F.jpeg
If you are interested in adopting Ruthie, please contact Hannah at 734-476-3679, 734-476-2515, or hlitow@wccnet.edu. This animal is listed as a courtesy on our site, but is available through this individual. For questions, please contact the individual listed, not HSHV. Thank you!