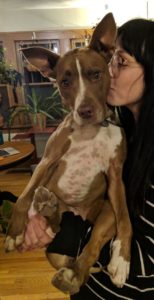 Quinn the Dog
Age: 7
Fixed (Spayed/Neutered)? Yes
Weight: 30 lbs
Indoor? Yes
Microchipped? Not known
City in which animal is located: Ann Arbor
Rehoming fee? No
Quinn is a total sweetheart. She loves to cuddle and wiggle her little butt when she's pet and she'd like it even more if you picked her up for a big hug. She is used to living in many situations from apartment to home with a backyard. She is good with people and other animals although it's been a while since she lived with another animal. She loves to fetch all day long and will jump right over your head if you have a rope toy. She loves to chase squirrels and sing with the birds. She is crate trained and very intelligent although just as stubborn. She can be rambunctious so I would not suggest adopting her if you have children under the age of 5. She needs someone who will love her as much as she loves you.
If you are interested in adopting Quinn, please contact Aaron at 720-955-5069 or aaronm.rosano@gmail.com.