Lady, Ninja, and Jade the Cats
Age: Lady is 1.5 years old and Ninja and Jade were born around May 2021
Fixed (Spayed/Neutered)? No
Declawed? No
Indoor? Yes
Microchipped? No
City in which animal is located: Bellevue, MI
Rehoming fee? No
Please note: This is a courtesy listing on HSHV's site. This animal is available through a private individual, NOT HSHV. For questions, please contact the individual below, not HSHV. Thank you!
I love cats and have always had cat companions, since I was a child. We planned on keeping our lovely girls forever, but our circumstances have changed and we are having to move to a place that is not cat friendly. I've been trying to find homes for them for months but with no luck.
The girls are all VERY well behaved, and come from a home with other cats, with whom they all get along really well. We are part of a large family, so they are used to people of all shapes and sizes, and cope well with our chaos. They have been indoor/outdoor for a few months due to my mother getting fed up with them. All three love to cuddle and are very loving and friendly, both with each other and other cats, and with humans. They have never been around dogs.
All three are just the biggest sweethearts and we have so enjoyed their company and being a part of our family, and I just want to know they will be going to the best home possible for them.
31048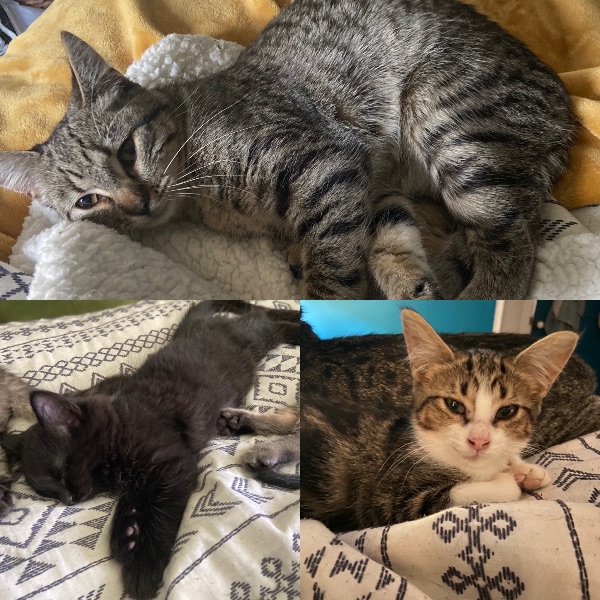 31048
https://www.hshv.org/wp-content/uploads/formidable/105/6DD6E250-38C6-416B-A0FC-B7C12649A632.jpeg
If you are interested in adopting Lady, Ninja, and Jade, please contact Sarah at 269-282-2426, 269-753-9090, or sarahseattle.7@gmail.com. This animal is listed as a courtesy on our site, but is available through this individual. For questions, please contact the individual listed, not HSHV. Thank you!