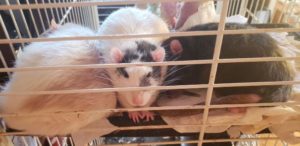 Levi, Lucy, Legion the Rats
Age: 1 year 5 months
Fixed (Spayed/Neutered)? No
Indoor? Yes
Microchipped? No
City in which animal is located: Ann Arbor
Rehoming fee? No
Our home is quiet and their cage is in a room separate from the rest of the household. They are good with people, and before I developed my allergy to them they were very affectionate (Levi especially). Unfortunately I have been unable to handle them for some time (I was looking for a new home for them prior to lockdown, but was delayed because of it), so they're a bit skittish about being picked up at the moment, but that should resolve once they are handled regularly again! They're a bit overweight because I haven't been able to let them run around, but otherwise the vet gave them a clean bill of health at their last visit!
A bit about each individually:
Levi is the most affectionate and likes to come by to get pets!
Lucy is very quiet and mostly keeps to himself (he's partially albino and has poorer vision than the others), but he loves when you give him tissue boxes to nest in!
Legion loves to explore. He has the most energy and loves to run around the room!
We will provide the new owner with their cage, toys, blankets, as well as their remaining food and treats. Email is the best form of contact!
If you are interested in adopting Levi, Lucy, and Legion, please contact Avery at 734-660-2735, 734-431-4907, or averybveiltrich@gmail.com.