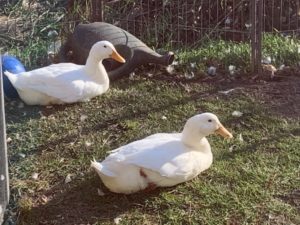 Timmy and Tommy the Peking ducks
Age: 8 months
City in which animal is located: Milford
Rehoming fee? No
Our home is quiet, not disruptive. They are good with people. They are not very friendly to our dogs, but they don't mind them. Someone might want to adopt my two ducks because they fun pets, good with kids, and they can provide fresh eggs. They love hugs and to just roam. They don't mind spending time with people.
If you are interested in adopting Timmy and Tommy, please contact Adriana at 248-791-4583, 248-791-4593, or adrianavulaj7@icould.com.