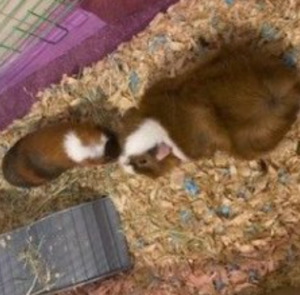 Bella and Pierogi the guinea pigs
Age: 2 and 4
Fixed (Spayed/Neutered)? Not known
Indoor? Yes
Microchipped? Not known
City in which animal is located: Plymouth, MI
Rehoming fee? No
I have two guinea pigs, Bella And Pierogi, we adopted them in March. They are bonded, so they will have to be rehomed together. They love to play with each other. They love to go into their play pen and hide under anything they can! They squeak when they see you walk into the room and love the top of their heads petted. They can live in a home with other animals, but would need to be kept separate from them.
If you are interested in adopting Bella and Pierogi, please contact Natalie at 714-656-6898 or njszuba@gmail.com.