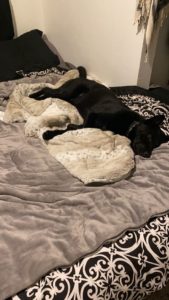 Laser the Dog
Age: 2
Fixed (Spayed/Neutered)? Yes
Weight: 50 lbs
Indoor? Yes
Microchipped? Yes
City in which animal is located: Ypsilanti
Rehoming fee? Yes
Our home is quiet, but too small for a dog Laser's size. Laser has a lot of energy and needs a space where he can run around and play. Laser plays well with other dogs outside of the home, we are unsure how he would react around another dog or animal in the household. We would prefer to move him in with a family with no children as he can be rough. Laser is a very sweet boy who loves to cuddle and be pet. He could really use a family who has an active lifestyle! We know that Laser can and wants to be a good boy and we are hoping that coming out of this we can feel at ease and give Laser the best chance at living a good life.
If you are interested in adopting Laser, please contact Kayla at 734-417-5712, 586-229-4411, or kaylaeharding@gmail.com.