Wallace the Dog
Age: 5 years old
Fixed (Spayed/Neutered)? Yes
Indoor? Yes
Microchipped? Yes
City in which animal is located: Farmington Hills
Rehoming fee? Yes
Please note: This is a courtesy listing on HSHV's site. This animal is available through a private individual, NOT HSHV. For questions, please contact the individual below, not HSHV. Thank you!
This is Wallace, or Wally for short 🙂 He is a sweet and happy boy who loves couch cuddles and lots of treats. He is from a purebred litter with tri-color markings. The bull terrier breed is goofy, playful STRONG, protective, and very cuddly. He would love to cuddle with you on the couch! He does have anxiety (genetic predisposition), which medication has helped 🙂 We are currently working on leash skills and door manners. He knows to sit, stay, down, break, and shake his paw.
He requires a strong, alpha owner that has experience working with high-energy breeds. I think that he would do great with a veteran who does not have small children around, and who can be his "pack" leader. If you have other, medium to large dogs in the home, he would do best with relaxed, low-energy dogs, in order to balance his high energy. Due to the breed's naturally high prey drive, he cannot be around small children or small animals. The bull terrier was initially bred to hunt rats, so it is part of their nature. He will thrive with structure, lots of activities, and an experienced, loving owner who is willing to work with him daily on training and play! He LOVES people and gets along with SOME larger dogs.
Let's organize a meet and greet to see if he would be a good fit for your home!
Additional Info:
-Fully up to date on vaccinations
-He eats a grain-free, single protein dry food with fish oil added for his skin.
-House trained
We are willing to drive him anywhere in Michigan or the surrounding states if it seems to be a good fit. Price is negotiable. He needs to go to a SAFE loving home.
We will need to interview each applicant and then do a home visit with Wallace in order to determine that it's a good fit for everyone.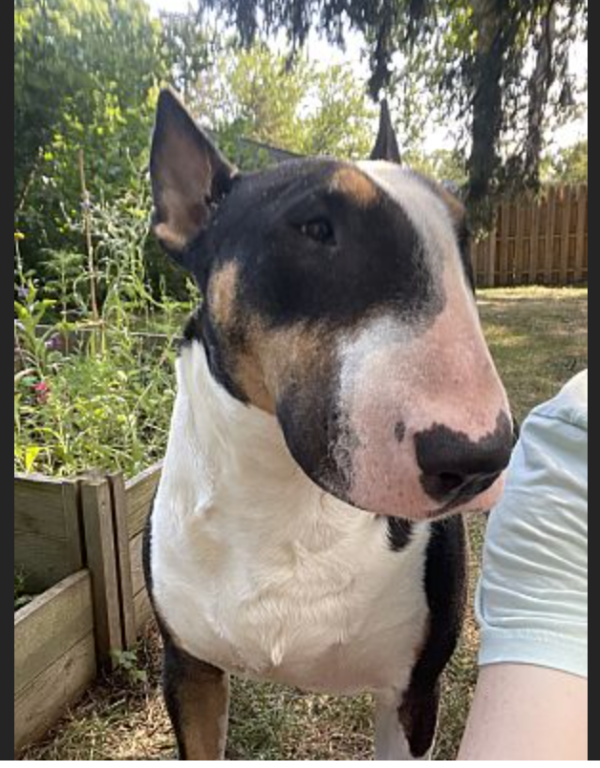 https://www.hshv.org/wp-content/uploads/formidable/105/Screen-Shot-2022-08-04-at-4.11.06-PM.png
If you are interested in adopting Wallace, please contact Kayla at 586-709-4617 or kaminskimk2017@gmail.com. This animal is listed as a courtesy on our site, but is available through this individual. For questions, please contact the individual listed, not HSHV. Thank you!