Ginny the Cat
Age: 7
Fixed (Spayed/Neutered)? Yes
Declawed? No
Weight: 14 lbs
Indoor? Yes
Microchipped? Yes
City in which animal is located: Ypsilanti
Rehoming fee? No
Please note: This is a courtesy listing on HSHV's site. This animal is available through a private individual, NOT HSHV. For questions, please contact the individual below, not HSHV. Thank you!
She loves to be around people, for example, she loves to sit with her humans while they work or study. She loves to play, with feathers, fur and plastic bottle caps. She is a fan of the pureed treats but doesn't like too many crunchy treats. She likes to have various 'spots' where she sits. She currently lives with her two brothers, who are litter mates but we think she would be better as a lone cat, as she often fights for dominance.
She doesn't like high pitched sounds and thunderstorms scare her. She prefers a home where people often stay in one place for a while, working on a computer, reading, watching tv, etc. so she can keep them company and watch what they are doing.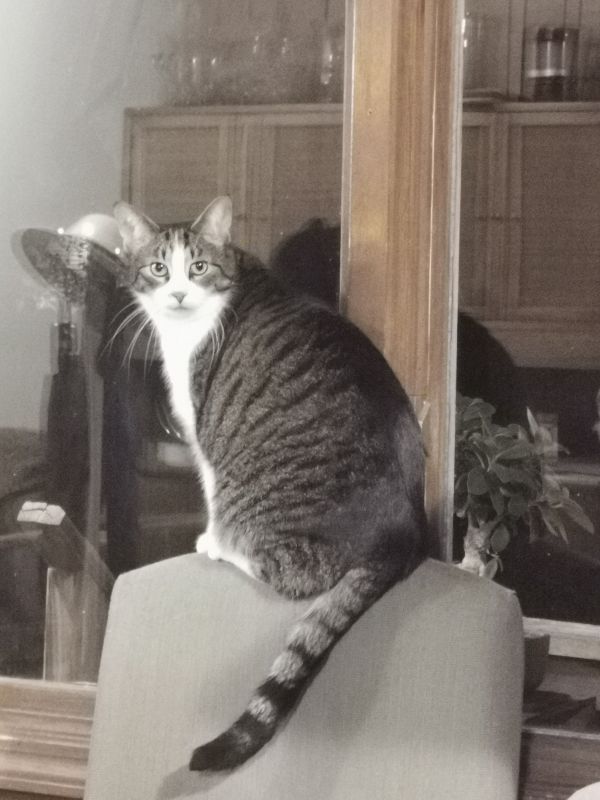 https://www.hshv.org/wp-content/uploads/formidable/105/Ginny.jpg
If you are interested in adopting Ginny, please contact Mark at 734-644-4757 or markmoellering@psyberation.com. This animal is listed as a courtesy on our site, but is available through this individual. For questions, please contact the individual listed, not HSHV. Thank you!