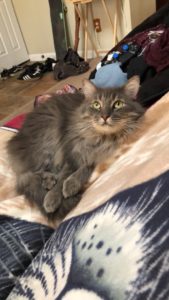 Wizard the Cat
Age: 6
Fixed (Spayed/Neutered)? Yes
Declawed? No
Weight: 11 lbs
Indoor? Yes
Microchipped? Yes
City in which animal is located: Rochester Hills
Rehoming fee? No
Wizard currently lives in a quiet 2 bedroom apartment. He craves and loves attention; and is great with people, but may be a little shy at first. His personality is unlike any cat I've seen. He's energetic and loves to play. He prefers to be the only animal, although another kitty might just cure his loneliness (I live alone and constantly leave the house) and he is always waiting at the doorstep when I walk inside. He likes to be fed 8am – 8pm every single day. He loves his schedule. He's very smart and charming.
If you are interested in adopting Wizard, please contact Ryan at 720-469-7021 or ryanbauermail@yahoo.com.