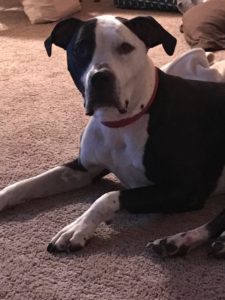 Ace the Dog
Age: 8
Fixed (Spayed/Neutered)? Yes
Weight: 70 lbs
Indoor? Yes
Microchipped? Yes
City in which animal is located: Milan
Rehoming fee? No
We currently have a busy home, and Ace is our only dog. He doesn't do well with other animals at first, but they can be acquainted it just takes time. He is better off being the only animal. He is a great guard dog. One of his legs is bad, and he doesn't use it. He was great when I first got him and I stayed in an apartment alone. He is potty trained and was fine going out for walks/potty breaks when I wasn't working. He does great with a fenced in yard as well.
If you are interested in adopting Ace, please contact Heidi at 854-222-5953 or hmckerch@gmail.com.