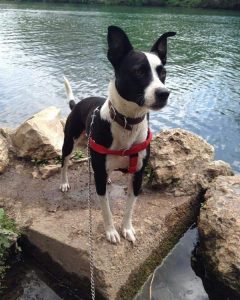 Judah the Dog
Age: 8 years
Fixed (Spayed/Neutered)? Yes
Weight: 60 lbs
Indoor? Yes
Microchipped? Yes
City in which animal is located: Saline
Rehoming fee? No
Judah is the most affectionate, precious little (big) boy I've ever met. He'll follow you to the bathroom if you let him! He's simply happy to be by your side; a true "people person" dog. He loves all people, including children! He has historically been ok around cats, but can be aggressive towards cats if they spit at him or go near his food. I would advise against pairing him up with cats. He does not do well with other dogs, so I would not suggest a home that has a small dog or equally rowdy dog. He gets weird when walking, so it is most ideal if you have a fenced backyard.
Judah LOVES to be outside! When he's in a backyard, he is ALL tail, ears, and eyes, soaking up the sights and sounds! He is quite the limber guy, and will spend his energy chasing squirrels and sniffing around. He doesn't care for the water, but he's such a hunky dory dude that he makes the PERFECT dog for trips, travel, hang outs, or just chilling at home.
If you are interested in adopting Judah, please contact Jen  at 512-769-1910 or hey.jen.wagner@gmail.com.