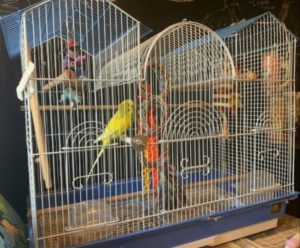 Mango the Bird
Age: 3 years
City in which animal is located: Northville
Rehoming fee? Yes
'Mango' was purchased at Petsmart in 2017. His wings are not currently clipped. He perches and eats from our hands inside the cage, but has not been trained to come out of the cage. He could be trained with devoted time.
Care includes daily food/water, cleaning cage as preferred.
He molts and scatters seeds, so occasional vacuuming of downy feathers/food (we recommend news paper in bottom of cage and under cage and covering under table)
He sings and plays with his toys during the day and sleeps at night.
He has been in a bedroom and sees our dog occasionally.
Table top Cage, toys, starter food included.
Meet and greets welcome.
If you are interested in adopting Mango, please contact Kim at 248-982-6783 or kim.koilpillai@gmail.com.