Blu the Dog
Age: 1 year
Fixed (Spayed/Neutered)? Yes
Indoor? Yes
Microchipped? Yes
City in which animal is located: Ann Arbor
Rehoming fee? No
Please note: This is a courtesy listing on HSHV's site. This animal is available through a private individual, NOT HSHV. For questions, please contact the individual below, not HSHV. Thank you!
Blu is a one-year-old male Harrier. He is fixed & microchipped. Also crate trained & house broken. He must be in a fenced yard and on leash. Looking for responsible owners who can give this high energy, working dog the life he deserves! Preferably someone who has room to roam and other dogs to pack with. Blu is timid at first but can soon be won over with treats. He loves kids and other dogs. Blu tries to play with our cat, but the cat is not amused. He does bark and even howl! Not ideal for a small residential setting. He loves nature hikes and needs plenty of exercise or he can get destructive. I believe his behavioral issues are mostly due to boredom. We did work with a trainer that suggested confidence building exercises (Example: agility courses). He doesn't show any signs of aggression and does show potential to make a great hunting dog. We are desperately hoping to find him a forever home with dedicated owners.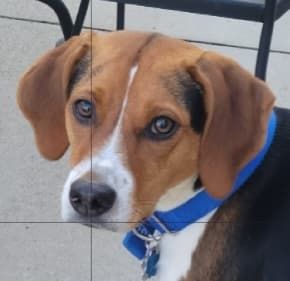 https://www.hshv.org/wp-content/uploads/formidable/105/279922593_331073579159281_2849280229540935737_n.jpg
If you are interested in adopting Blu, please contact Michelle at 734-660-8941 or mckinnea@umich.edu. This animal is listed as a courtesy on our site, but is available through this individual. For questions, please contact the individual listed, not HSHV. Thank you!