Teddy the Dog
Age: 5 years
Fixed (Spayed/Neutered)? Yes
Weight: 115 lbs
Indoor? Yes
Microchipped? Yes
City in which animal is located: YPSILANTI
Rehoming fee? Yes
Please note: This is a courtesy listing on HSHV's site. This animal is available through a private individual, NOT HSHV. For questions, please contact the individual below, not HSHV. Thank you!
Hi,
I am Teddy and I am sad.
Daddy is looking for a very good home for me. He is facing some possible serious health problems in the near future. He is not sure but he does not want to take the chance that I will end up in a bad environment
I am a 5-and-a-half-years-old male Akita and I have lived with daddy for 5 years. He makes sure that I have plenty of healthy food. I go to my doctor every year and am up-to-date on my heart worm and flea and tick preventatives.
When daddy takes me out for a walks (which I love), lots of people tell him that I am beautiful. It is my pinto coloring.
I have never attacked another dog, but I have defended myself when other dogs have come after me. Cats and rabbits are another story. I have gotten over my obsession with squirrels.
When out walking people ask daddy, is he protective? He just smiles and lets them assume that I am. No one has yet to challenge that assumption. Actually I love people and attention. On walks people ask if they can pet me. Daddy lets them after telling them the proper way to greet a dog and that if I like them I will jump up and try to give them a French kiss, and how to stop me.
I am well behaved in the house. I am long past the puppy stage.
Daddy adopted me thru Midwest Akita Rescue Society (akitas.org) and they will vet you for approval. You need a sturdy 4 foot fence (chain link recommended) enclosed area for me to romp in.
Visit Midwest Akita Rescue Society on the Web for more requirements.
Contact MARS at marsakita@sbcglobal or 773 594 9302.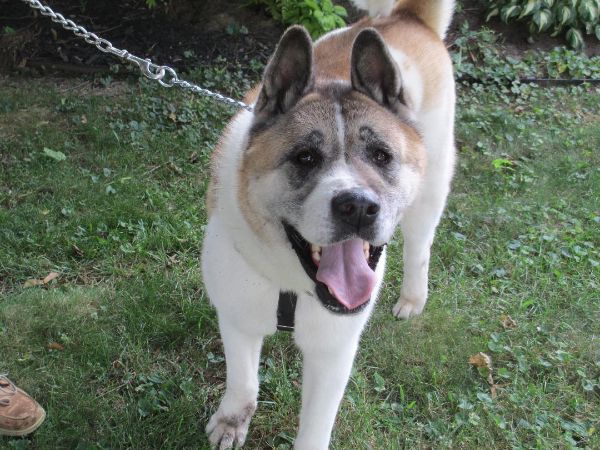 https://www.hshv.org/wp-content/uploads/formidable/105/thumbnail.jpg
If you are interested in adopting Teddy, please contact Richard at 734-846-3938 or Rclark001@att.net. This animal is listed as a courtesy on our site, but is available through this individual. For questions, please contact the individual listed, not HSHV. Thank you!