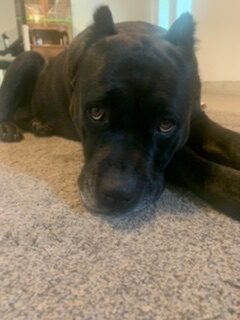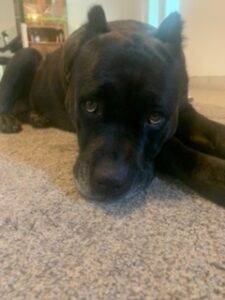 Zena Aradia the Dog
Age: 5
Fixed (Spayed/Neutered)? Yes
Weight: 120 lbs
Indoor? Yes
Microchipped? No
City in which animal is located: Maybee
Rehoming fee? Yes
Please note: This is a courtesy listing on HSHV's site. This animal is available through a private individual, NOT HSHV. For questions, please contact the individual below, not HSHV. Thank you!
Zena is a very loving girl. Zena has anxiety and has to have her binky (kong) or toy in her mouth for security. She will bark at anything she is not familiar with because she is scared. I believe she would do best with adults and no young kids. She is very protective. She will love and protect the one who loves her back. She is so loving when she isn't in protect mode. She currently lives with another dog and a cat. She gets along well with them. She needs to be muzzled at the vet or walks as she is in protect mode and feels threatened when others are near her and her owner. She just needs someone that can give her the love and affection back.
If you are interested in adopting Zena Aradia, please contact Wendy at 734-657-9898, 734-858-9597, or canadien4life@outlook.com. This animal is listed as a courtesy on our site, but is available through this individual. For questions, please contact the individual listed, not HSHV. Thank you!