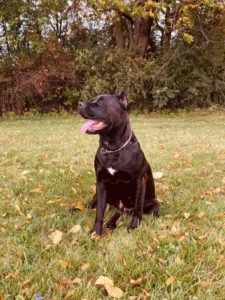 Zena the Dog
Age: 4
Fixed (Spayed/Neutered)? Yes
Weight: 90 lbs
Indoor? Yes
Microchipped? No
City in which animal is located: Belleville
Rehoming fee? No
Please note: This is a courtesy listing on HSHV's site. This animal is available through a private individual, NOT HSHV. For questions, please contact the individual below, not HSHV. Thank you!
Zena is very loving and loyal. She will be very protective over her owner. She has anxiety and has to have a toy (binky) in her mouth to relieve the stress. She barks when she is scared. She would do best with no other animals but she does live with other dogs and a cat. Just be sure to include her with affection so she doesn't feel left out. She is a full bred Cane Corso with papers. No fee just want to be sure she is going to someone that will love her the way she loves you!
If you are interested in adopting Zena, please contact Wendy at 734-657-9898 or canadien4life@outlook.com. This animal is listed as a courtesy on our site, but is available through this individual. For questions, please contact the individual listed, not HSHV. Thank you!