Ann Arbor, MI (October 31, 2019) –While the Humane Society of Huron Valley (HSHV) was founded in 1896, October 2019 marks 10 years in a state-of-the-art animal care facility.
"We can't wait to celebrate with the community, who helped build this incredible animal care facility and keep our life-saving services running every day through volunteering, donating, adopting, and more. Because of their support, HSHV is now an award-winning organization offering help, healing, and protection for thousands of animals and the people who love them each year, and stands as a testament to the humanity of our community," says Tanya Hilgendorf, President and CEO of HSHV.
In a happy, healthy space, designed to be welcoming to animals and people, HSHV is now able to be a model of organizational excellence and best practices, achieving record-high adoptions and a 96% save rate.  The building supports numerous innovations for animals and people, including housing and care tailored to the needs of homeless and abused animals; an affordable, full-service veterinary clinic providing high volume spay/neutering; the state's first shelter-run Trap-Neuter-Return program; Bountiful Bowls, providing free pet food for families in need; dog training classes; community education; and outstanding youth-based humane education programs.
Since entering the building, HSHV's volunteer base has grown to 2500 animal-loving youth and adults, and the organization has won numerous awards for nonprofit management and life-saving services—including Charity Navigator's top rating. HSHV has been awarded this honor 8 years in a row, placing the organization within the top 4% of all charities rated by Charity Navigator.
From Monday through Friday, November 4-8, in celebration and appreciation of supporters, HSHV will be offering $10 adult cat and dog adoptions, 10% off pet supply purchases in the shelter's "Paws to Shop" retail store, and free pet bandanas to the first 125 people who come in. Also, Wednesday, November 6 is "Customer Appreciation Day;" HSHV invites all to their facility (3100 Cherry Hill Rd, Ann Arbor) to celebrate with free treats and activities from 11 a.m. – 6 p.m.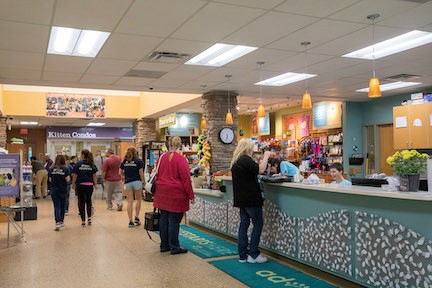 About The Humane Society of Huron Valley:
The Humane Society of Huron Valley, located in Ann Arbor, is an independent 501(c)(3) nonprofit organization and relies solely on the generosity of our supporters to provide critical community programs and services. HSHV is an award-winning organization, recognized for our best practices and highest animal "save rate" among all similar shelters in Michigan. Charity Navigator, the nation's top charity evaluator, awarded HSHV a 4-star ranking, the highest possible. The mission of HSHV is to promote the loving, responsible care of all animals in our community. HSHV is not affiliated with any other humane organization and does not receive funding from the United Way. More information can be found on HSHV's website (hshv.org) and in our annual report (www.hshv.org/annualreport).