Ann Arbor's first cat café
Opening in May 2016, the Tiny Lions lounge and adoption Center not only helps find homes for hundreds of cats every year, but also provides a relaxed and fun place for people to bond with friendly felines.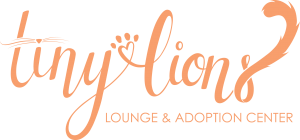 Due to the COVID-19 situation, Tiny Lions Lounge and Adoption Center will be closed until further notice. Any remaining Tiny Lions kitties are being lovingly cared for at the main HSHV location at this time. All public events have been canceled, and you can get the most current information on events here: www.hshv.org/events
There will be ongoing updates on the situation from HSHV, here: www.hshv.org/covid19 
Stay well, and thank you so much for your support.
HSHV now offers programs at the Tiny Lions lounge and adoption Center (TLC)! This "cat café" is not only a revolutionary idea in cat-human bonding and adoption, but also provides much-needed space and convenient parking, is easily accessible by public transportation (bus), and is located on the west side of Ann Arbor, off the I-94 Zeeb Road exit (5245 Jackson Rd, Ste. A1, Ann Arbor 48103).
Activities and Programs at TLC