Ann Arbor, MI (September 26, 2023) – The Humane Society of Huron Valley (HSHV) is providing shelter, care, and attention to 17 cats who were allegedly abandoned in a parking lot near Owl Creek Apartments in Ann Arbor. The incident has prompted an investigation.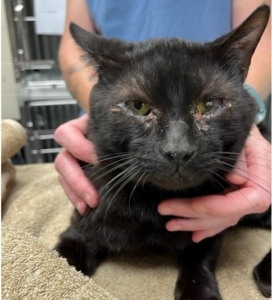 The 17 cats, ranging in age from 5 months to 5 years, were discovered in distress, left to fend for themselves in a situation that left them vulnerable and without proper care.
The cats are understandably scared, and several have various medical needs, including severe eye issues and skin conditions. HSHV remains committed to rehabilitating and rehoming these cats when they are ready for adoption.
"Our primary concern is the welfare of these sweet, beautiful kitties who have endured so much" says Tanya Hilgendorf, HSHV's CEO and President. "Abandoning animals is not only illegal but also inhumane. We are very grateful to all the caring people who look out for innocent animals."
The investigation into the abandonment of these cats and possible hoarding is currently ongoing. Those with any information are encouraged to call HSHV's Cruelty & Rescue team at 734-661-3512 or go online to hshv.org/report.
HSHV reminds the community of the importance of responsible pet ownership and encourages individuals facing difficulties in caring for their animals or needing low-cost spay/neuter to contact HSHV or their local animal shelter for supportive programs. Abandoning animals is not only illegal but also places them in grave danger, subjecting them to harsh conditions and suffering.
HSHV remains dedicated to its mission of promoting the humane treatment of animals and finding loving homes for every pet in need. Donations to support the care and rehabilitation of these cats and others like them can be made at hshv.org/donate.
For more information about the Humane Society of Huron Valley or to inquire about adopting a pet, please visit hshv.org.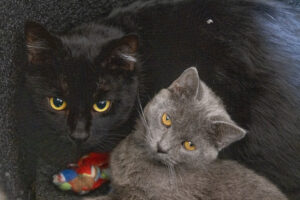 ###
About The Humane Society of Huron Valley:
The Humane Society of Huron Valley, located in Ann Arbor, is an independent 501(c)(3) non-profit organization and relies solely on the generosity of our supporters to provide critical community programs and services. HSHV is an award-winning organization, recognized for our best practices and highest animal "save-rate" among all similar shelters in Michigan. Charity Navigator, the nation's top charity evaluator, awarded HSHV a 4-star ranking, the highest possible. The mission of HSHV is to promote the loving, responsible care of all animals in our community. HSHV is not affiliated with any other humane organization and does not receive funding from the United Way. More information can be found on HSHV's website (hshv.org) and on our annual report (hshv.org/annualreport).