Ann Arbor, MI (October 13, 2023) — The Humane Society of Huron Valley (HSHV) proudly announces local winners of the highly anticipated Humane Youth Award, now in its sixth year.
The Humane Youth Award honors young champions who have made outstanding efforts to protect and advocate for animals, people, and/or the environment—making a significant impact in our community. This year's winners are: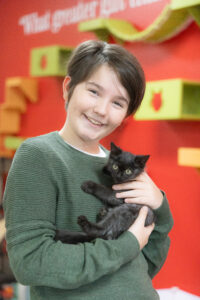 Zachary Koolage-Hall, 12, of Ann Arbor, is the winner of HSHV's 2023 Humane Youth Award.  Zachary was chosen as this year's winner because of his unwavering dedication to the community's cats.  Part of an HSHV foster family, Zachary has been helping to care for kittens at his home, including cleaning litterboxes, performing daily weight checks, and attending all vet visits.  But Zachary's dedication isn't only to cute and cuddly kittens; he also finds adopters for barn cats and then helps these less social cats acclimate to their new living situations.  He even spent the money he earned from working a summer job to purchase a humane live trap in order to find a missing barn cat.  Zachary attends Ann Arbor Open school.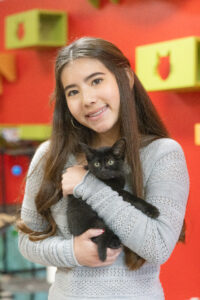 Julia Chen, 14, of Ann Arbor, is the Humane Youth Award 1st runner up.  As a Junior Volunteer at HSHV, Julia has contributed over 60 hours towards the care of animals at the shelter.  She's also made blankets and toys in her spare time to donate to homeless animals.  Julia's commitment to helping animals extends beyond just cats and dogs; when she learned that monarch butterflies were a threated species, she planned and planted a pollinator-friendly garden. Julia attends St. Francis school.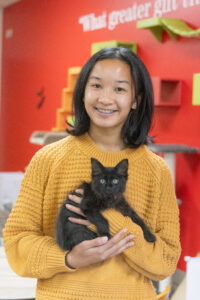 Aileen Bachrens, 17, is the Humane Youth Award 2nd runner up.  She is a Junior Volunteer at HSHV who has spent much of her volunteer time comforting and socializing shy dogs and small mammals.  Outside of volunteering at the animal shelter, Aileen also organized a bake sale in downtown Ann Arbor and donated proceeds of over $200 to help homeless animals.  Aileen attends Skyline High School.
Additional youth receiving honorable mention for the Humane Youth Award include Lula Cook, Aniya Lewis, Megan Ohm, and Megan Peng.
"It is truly heartwarming to witness the passion and dedication of these remarkable young people who are making a real difference in the lives of animals—and of us all," says Karen Patterson, VP of Volunteers and Humane Education at HSHV. "Their hard work and advocacy inspire and make us hopeful for the world's future. We are so honored to recognize them."
The winner of the Humane Youth award will receive a "Humie" trophy at the Compassionate Feast, which will take place at Ann Arbor's Frutig Farm on Thursday, October 19 at 5:30 p.m. HSHV welcomes the community to join in celebrating the accomplishments of these inspiring advocates for animals, and tickets for the celebration and fundraiser for homeless and abused animals are available at hshv.org/feast. More information on the Humane Youth Awards can be found at hshv.org/hya.
About The Humane Society of Huron Valley:
The Humane Society of Huron Valley, located in Ann Arbor, is an independent 501(c)(3) non-profit organization and relies solely on the generosity of our supporters to provide critical community programs and services. HSHV is an award-winning organization, recognized for our best practices and highest animal "save-rate" among all similar shelters in Michigan. Charity Navigator, the nation's top charity evaluator, awarded HSHV a 4-star ranking, the highest possible. The mission of HSHV is to promote the loving, responsible care of all animals in our community. HSHV is not affiliated with any other humane organization and does not receive funding from the United Way. More information can be found on HSHV's website (hshv.org) and on our annual report (hshv.org/annualreport).
###