FOR IMMEDIATE RELEASE
Adopt a pet free at Humane Society of Huron Valley
Shelter introduces new program to get homeless animals homed faster
Ann Arbor, MI (December 29, 2022) — Animals don't have a time limit at The Humane Society of Huron Valley (HSHV), but they still can't wait to find a home.  So HSHV is rolling out a new initiative to help them get one faster.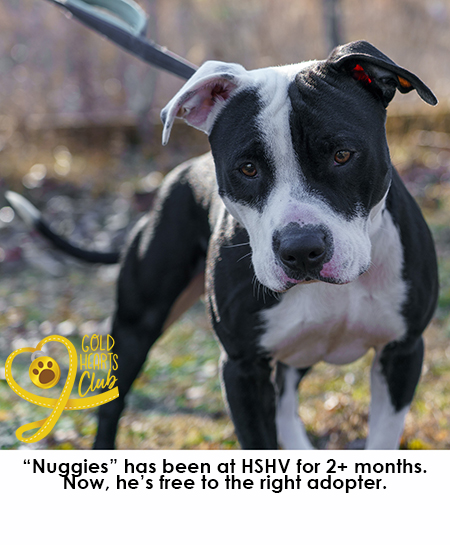 For animals who've been at the shelter longer than normal, HSHV is waiving the adoption fee.
"We're hoping it's just the incentive people need to give these deserving animals consideration," says Alison Balow, HSHV's Adoption Manager. "Some may be older, some may have special requirements, and some are simply wallflowers who've been overlooked."
"But people who do consider them—well, we think they have hearts of gold."
Animals qualifying for free adoption have "Gold Hearts" logos on their website photos. They're also highlighted in a special HSHV Gold Hearts Facebook group. Like Nuggies, a stray dog named by a child who celebrated a birthday at the shelter. Nuggies loves to run and play with people, but he tends to stay at the back of his kennel— so people walking through the shelter often don't get the right picture of him.
While the phrase "free adoption" can concern some animal lovers who worry unscrupulous people may adopt, there's been extensive nationwide research on free adoption promotions, and the results are clear: people who adopt for free value their companion animal the same as people who pay do, and they care for them just as much, too. And free adoption promotions are effective at increasing adoption rates.
"Free adoptions are a great way to get people in the door and looking at these animals," says Balow. "Of course, our adoption policies remain the same, no matter the fee, and even though they're saving by not paying an adoption fee or for sterilization surgery or microchipping—we always discuss the lifetime costs of caring for a companion animal with potential adopters."
All "Gold Hearts" animals have been spayed/neutered, have received an initial health screening and age-appropriate vaccinations, and come with a microchip ID, saving adopters hundreds more dollars than just the adoption fee.
"Plus, adopters get the priceless gratitude from a cat or dog who's been given a second chance at a happy life!" says Balow.
HSHV is open 7 days/week and does not require an appointment to adopt. Hours are Mondays through Wednesdays 11 a.m. – 6 p.m., Thursdays and Fridays 11 a.m. – 7 p.m., and Saturdays and Sundays 11 a.m. – 5 p.m. (Closing 3 p.m. on New Year's Eve, and closed New Year's Day.) Adoptable animals can be seen at hshv.org/adopt and in the Gold Hearts Facebook group.
###
About The Humane Society of Huron Valley:
The Humane Society of Huron Valley, located in Ann Arbor, is an independent 501(c)(3) non-profit organization and relies solely on the generosity of our supporters to provide critical community programs and services. HSHV is an award-winning organization, recognized for our best practices and highest animal "save-rate" among all similar shelters in Michigan. Charity Navigator, the nation's top charity evaluator, awarded HSHV a 4-star ranking, the highest possible. The mission of HSHV is to promote the loving, responsible care of all animals in our community. HSHV is not affiliated with any other humane organization and does not receive funding from the United Way. More information can be found on HSHV's website (hshv.org) and on our annual report (hshv.org/annualreport).