We adopted our beloved Alba in 2015. She was rescued from a hoarding situation and was an anxious but endlessly sweet dog from day one. We were told that she was 2 years old, and her youth factored into our decision to adopt. We wanted a young dog who would be with us for many, many years.
Alba settled into the family perfectly. She loved walks and had the adorable habit of climbing onto the kids' piled up blankets or stuffed animals when she wanted to nap. When Alba was about six, she developed some minor health problems and some of the fur on her face turned grey. The vet told us that her health problems – all manageable – revealed her age to be older than we believed. Rather than being six, she was likely at least ten. At first, we were distraught, aware that her time with us would be shorter than anticipated. We talked to the vets at HSHV and they explained that the age estimate at intake is just that – an estimate – and it's not always possible to be exact.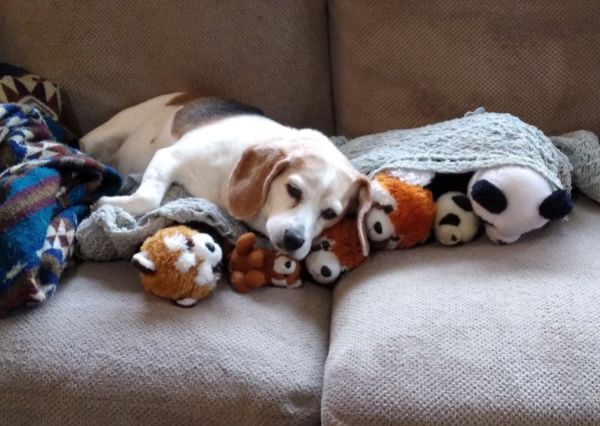 Our family has come to feel extremely thankful for the miscalculation. When we first saw Alba, if we had read that she was six years old instead of two, we probably would have walked right past. We would have missed out on the wonderful dog, our sweet Alba, who is now thirteen and still happily taking daily walks and snoozing on stuffed animals. The miscalculation was a true stroke of luck.