I had seen Alfredo on the website and instantly loved him! I had been thinking about getting a dog and I was just scrolling through adoptable pets for months. When I saw his big goofy face with his lazy eye I immediately saved his pic! The only thing that was stopping me from running there right then was that he was a hour away 😭
…Fast forward about a month, I was looking back to the pictures of different shelter dogs and calling around to see if they were still looking for a home. Sure enough Mr. Alfredo was still there 🥹 The next day I made the hour drive and he's been home ever since!
When Alfredo first came home he was anxious and nervous (as any dog would be) but quickly settled in! He loves toys, treats, the couch, treats, car rides and oh, did I mention treats??
Alfredo's green flags 💚
-Good boy
-Knows no stranger when it comes to getting pets
Red flags 🚩
-70lb lap dog
-Gets in the front of the line for treats
-Thinks nobody else deserves any pets
Overall he's better than what we could've ever asked for 💙 My whole family loves him and he's just a big goofy guy!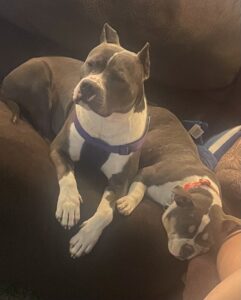 (Alfredo on the left)