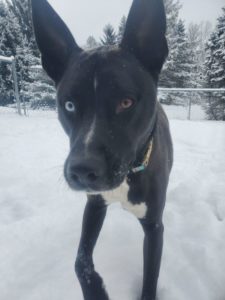 Bo the Dog
Age: 5
Fixed (Spayed/Neutered)? Yes
Weight: 80 lbs
Indoor? Yes
Microchipped? Yes
City in which animal is located: Howell
Rehoming fee? No
Please note: This is a courtesy listing on HSHV's site. This animal is available through a private individual, NOT HSHV. For questions, please contact the individual below, not HSHV. Thank you!
He is a happy, cuddly, hyper, husky-pit mix, that loves to be around people as often as possible. He is house-trained and can be left alone for several hours without issue and will meet you with joy and kisses. He needs to have a fenced in yard as he has lots of energy and does best if he can run around. He can be walked although does not do well if approached while on a leash. He does not do well with children as he is not comfortable around them. He is lived with other dogs but does best as a single dog where he does not have to share his toys. This sweet boy loves to use his husky voice to talk on all occasions.
If you are interested in adopting Bo, please contact Michelle at 517-294-6558 or micshell21@gmail.com. This animal is listed as a courtesy on our site, but is available through this individual. For questions, please contact the individual listed, not HSHV. Thank you!