Late on the Friday before the Martin Luther King Day long weekend, I was scrolling through the HSHV app and saw the intake picture for 12-year-old Chloe. I am a volunteer at HSHV and have taken dogs for overnight shelter breaks in the past, so I texted my husband and told him we would likely be having a guest for the weekend. I went to pick Chloe up the next day, and for the first time in 18 months of volunteering, I burst into tears when I met a dog at the shelter. Chloe was huddled in the corner of her kennel, heartbroken and terrified after being surrendered due to circumstances beyond her and her former family's control. It took 45 minutes of gentle coaxing to even get her to let me touch her and the help of three staff members to get her to walk to my car.
I finally got Chloe home, introduced her to my husband and our two young dogs, and within 24 hours she was a completely different dog…full of smiles and already learning to trust us. My husband and I didn't even really have to talk about it. By Sunday afternoon, there was no possible way we were letting her go. On Monday, MLK Day, we flew to the shelter at opening to finalize the adoption and the newly renamed Joey came home to start the rest of her life.
We had NO plans to get another dog and were completely unprepared, but there was no question in our minds that this was meant to be. Joey is coming out of her shell more everyday. Yesterday she bounced into the middle of a heated tug-of-war battle between her sisters, barks and all, and today she climbed up onto the couch to sit in my lap. Watching Joey become the dog she was meant to be is a true joy and is everything good about rescuing a dog that needs you.
Thanks, HSHV, for letting us find her!
-Julie and Todd, Tessie, Scout and Joey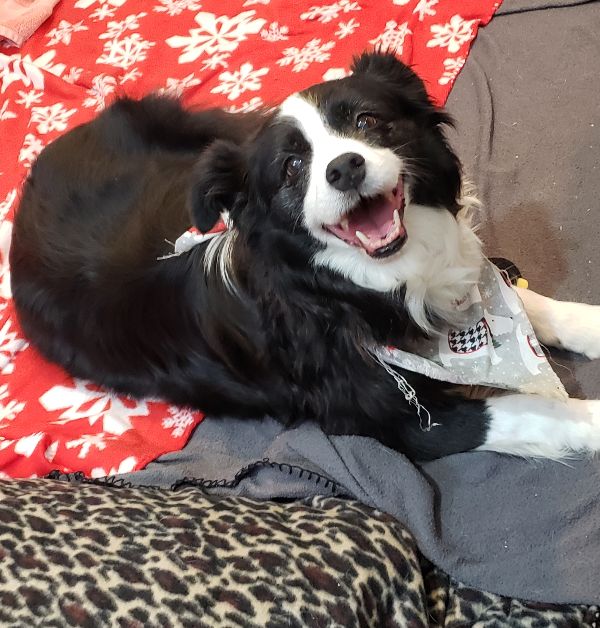 Chloe now Joey